A captive is a legal entity, licensed as an insurance company, to insure a proportion of its shareholders' risks. To put it simply, it is an insurance company owned by the captive members (shareholders).
The captive members will accept a predetermined level of risk. They will pay the associated premiums for the administration of the captive (fixed costs) to the captive insurer.
The most common lines of business underwritten in a captive include:
Property & Business Interruption
Workers' Compensation & Employers Liability
Commercial General Liability
Auto Liability
Professional Liability
There are many ways a captive can benefit your construction company:
Your performance determines your cost – a true performance-based product.

Improved cash flow

Improved risk coverage

Reduce insurance costs – lower fixed costs

Access to reinsurance markets

Lowers your total cost of risk

Greater flexibility in coverage terms, conditions and exclusions.
There are many types of Captive Structures. Three of the most common are Single Parent / Pure Captives, Group Captives, and Rent-a-Captives.
Captives can offer a variety of benefits when it comes to your insurance costs. Contact one of our TSIB Insurance Professionals if you would like to learn more about captives.
Request More Information: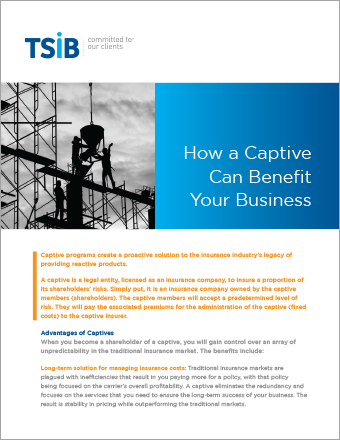 Learn how your construction company can benefit from a captive.