Employee Benefits Programs
Every company is different and your benefits package should reflect your company's unique needs. TSIB partners with insurance Carriers and industry specific Third Party Administrators (TPA) to provide health insurance benefits to Employers of all sizes, in any industry. Our team is ready to help you take the next steps in protecting your employees.
At TSIB our approach is simple. We work with you to create a customizable Benefits Program best suited for your company's needs. Depending on your company goals, we have two approaches:
1. Strategic Benefits Planning
We don't just look at your company's benefits program for the year, but rather provide a holistic approach that overlooks the next 3-5 years. This program allows us to take a deeper dive into your long term goals and align your Benefits Program to match. Together, we explore:
Sustainable benefits plan options
Industry trends & expectations for cost increases
Your company growth projections (i.e. headcount)
Organization costs estimates (i.e. overhead, materials, etc.)
Our goal is to ensure that you have a benefits package that supports your employees, at a cost you can sustain. In order to do that, we work with our Carriers to negotiate rates that make sense. We hold them accountable not only to provide consistent yearly rates, but exceptional customer service to you and your employees.
Not only can we provide benefit plans as a standalone Strategic Benefits Program for your company but TSIB can also bundle your Benefits Program with your Corporate Insurance!
This means we are your One-Stop-Shop. TSIB's approach makes it easier for you, as everything is under one roof. Our team of Brokers and Benefit Specialists work closely with each other to ensure you have the best insurance & benefits package. This partnership discovers gaps in services, issues, claims, and utilization. This way, you're not only protecting your employees but your overall company.
TSIB offers many different Health and Ancillary benefits. Our most popular products & services include:
Health
Dental
Vision
Chiropractic
Mental Health
Life Accidental Death and Dismemberment
Dependent Life Insurance
Disability Plans
And more!
These can be offered on a Voluntary Basis:
Life
Accident / Disability
Cancer
Hospital Intensive Care
Long-Term Care
Short-Term Care
Hospital Confinement Indemnity
And more!
5500
ACA Compliance
Benchmarking
Benefit Platforms – Client/Employee Portals
COBRA Administration
Compliance
Wellness Initiatives
And more!
Understanding what to include in your benefits programs can be overwhelming! Reach out to TSIB today and speak with a Specialist on how we can help!
TSIB's Employee Benefits Programs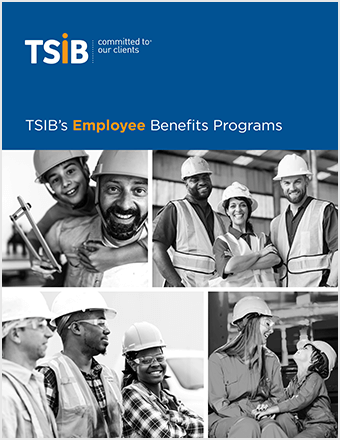 Attract talented employees and minimize turnover with a competitive Employee Benefits Program.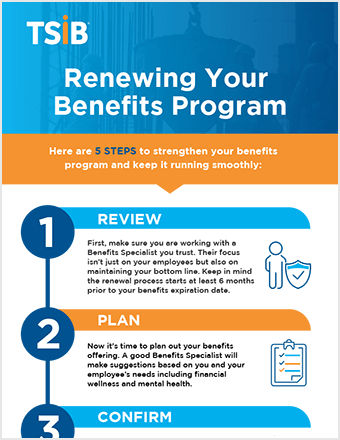 Renewing your benefits program? Here are 5 steps to keep it running smoothly.
Request More Information: