Whether this is your first construction project or you're a seasoned expert, finding the right insurance program is the key to the success of your project.
Traditionally, Project Owners require all of their Contractors to provide their own insurance in their bid. Under this method, the Project Owner keeps track of each Contractor's insurance policies to ensure they have the proper coverage and do not have any insurance gaps.
A more popular insurance method is to implement a Controlled Insurance Program (CIP) on your project. A CIP, also known as a Wrap-Up, is a consolidation of insurance coverage for all project Contractors into one program. Implementing a Wrap-Up can aide in minimizing your overall insurance risk by ensuring each Contractor has the proper coverage under the program.
There are 2 main types of Wrap-Ups:
CCIP: Contractor Controlled Insurance Program
OCIP: Owner Controlled Insurance Program
Though similar, there are some specific differences, such as who is Sponsoring the program. In a CCIP, the General Contractor is the Sponsor. In an OCIP, the Owner is the Sponsor. The Sponsor is responsible for paying the premium and managing the program elements.
The 4 Key Elements of a Wrap-Up
Understanding how the Sponsor manages all of the responsibilities for each element between a CCIP and OCIP will make it easier to determine the best Wrap-Up for you.
Request More Information: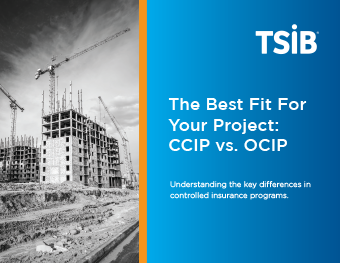 To learn more about the specific responsibilities the Sponsor has between an OCIP vs. CCIP, download our eBook today!
Still not sure if you should even consider a Wrap-Up instead of using the Traditional Insurance method? Download our Traditional vs. CIP eBook today for more information.