Security Industry Leaders
Risk associated with the Security Industry can be costly and complicated. Developing the most effective Risk Management Strategy is critical to the success and ability of your company to compete. TSIB develops and manages specialized insurance programs with the appropriate coverages for your business at the most competitive rates.
Being a TSIB client means much more than discussing renewals once a year. It starts with a thorough analysis of your business, a commitment to improvement and a preventative risk management strategy. We continue to make sure you have the support of industry leading experts who are providing year-round support, immediate claim advocacy & management, and a deep commitment to delivering results.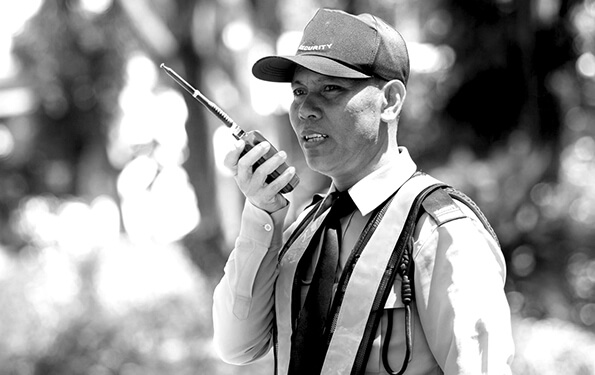 TSIB delivers industry leading risk management and insurance programs to our clients. This includes:
Airport Security
Armored Courier/Transport Services
Banks and Office Building Security
Construction Site Security
Convenient Store Security
Dispensary Security
Elderly Housing Security
Executive Protection
Fast Food Security
Government Building Security
Hospital Security
Hotels/Motel Security
Industrial Security
Medical Facility Security
Prisoner Transport
School Security
Security Consultants
Special Event Security
Residential Security
Restaurant Security
Retail Security
Private Investigator Operations:
Background Checks
Computer/Database
Criminal
Domestic
Executive Protection
Fire Origin and Cause
Fraud
Insurance Surveillance
Missing Persons
Pre-Employment Screening
Process Service
Security Consulting
Shopping Service
Sub Rosa
Burglar, Fire, Carbon Monoxide & Smoke Alarm Installers
Burglar & Fire Alarm Central Monitoring
CCTV Installation & Monitoring
Home & Business automation
Key Cards/Access Control
Security Design & Consultation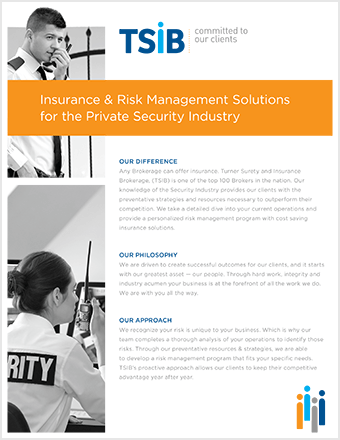 Download our free guide on Insurance & Risk Management Solutions for the Private Security Industry.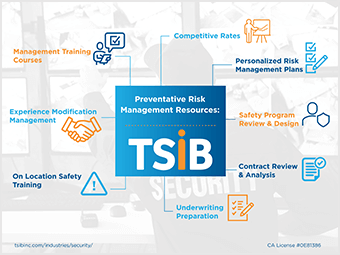 Identify Preventative Risk Management resources with this simple infographic.
We customize your insurance policies and design a program to deliver the coverage your business requires, at rates that keep your business competitive in the marketplace. These coverages include: